Not your postcode?
Setting the first half of your postcode shows you the full choice in your area.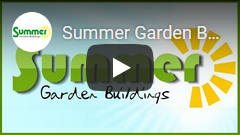 Growhouse 381 - Polycarbonate, 2 Shelves, Green Finish
Summary:
These mini greenhouse are 2'6"x1'3" (760mm x 390mm). The height is 3'3" (1000mm). Standard features include two slatted shelves to provide extra growing space or storage and a green powder coated finish throughout. The hinged lid includes locking stays for measured ventilation with double hinged doors for easy access. The doors, lid and walls are glazed with twinwall polycarbonate glazing, which is far stronger than the polythene covers supplied with other mini greenhouses. It is virtually unbreakable, provides good insulation from frost and diffuses light to prevent scorching. This aluminium mini greenhouse is an ideal space saving solution for small gardens. A sheltered site against a wall is an ideal position, with good light but preferably not exposed to prolonged fierce sunlight.
Prices fixed until Wednesday 25th September.
Back to the Top
Twin wall polycarbonate glazing
Green powder coated aluminium greenhouse frame
Clip free glazing system which holds the polycarbonate glazing in position more securely
Double hinged front doors
Single top hinged lid with ventilation stays
2 slatted shelves
Width 2'6" (760mm)
Depth 1'3" (390mm)
Height 3'3" (1000mm)
TWIN WALL POLYCARBONATE: Twin wall polycarbonate is virtually unbreakable and very practical. With small children or pets around polycarbonate greenhouses are safer. Polycarbonate is also safer to handle during installation. Polycarbonate greenhouses provide a similar growing environment to glass greenhouses with better insulation properties and reduced glare. Polycarbonate also provides good insulation from frost and maintains a more even temperature for better plant growth. Twin wall polycarbonate also diffuses light to prevent scorching. Twin wall polycarbonate glazing is stronger than the flimsy single skin polycarbonate sheeting supplied with some greenhouses.
POWDER COATED ALUMINIUM: The powder coated finish is more attractive than the stark silver finish aluminium greenhouses. The tough finish also has excellent weathering properties and retains its gloss and colour superbly. A good example of powder coating is the finish on your washing machine. Powder coated aluminium greenhouses have a similar finish.
Back to the Top